What you need to know about coronavirus on Wednesday, May 13
|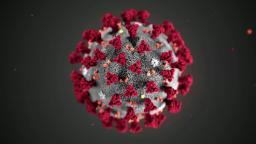 Dr. Anthony Fauci, a key member of the White House's coronavirus task force, warned a Senate committee yesterday that reopening the economy too quickly could trigger an uncontrollable outbreak. He also said it was a "bridge too far" for schools to expect a vaccine for Covid-19 by the time students return to campuses in the fall, though he expressed optimism one would be developed in the next year or two.
It was a very different message to the victorious one that Trump has been touting, as states across the country start to roll back business closures and stay-at-home orders put in place two months ago to slow the virus' spread.
The testimony and senators' questions often illustrated the yawning divide between Republicans and Democrats over the best path forward amid warnings that positive cases could surge again. But one only needs to look to South Korea and China — countries that eased restrictions, only to tighten them again after another spike in cases — for a sense of what lies ahead.
A key coronavirus model often cited by the White House has again raised its projected death toll, now predicting there could be 147,000 fatalities in the United States by August 4 — more than double what was estimated only two weeks ago.
"We may go from having this long, slow, steady decline (to exponential growth)," said Dr. Chris Murray, the researcher behind the influential model. "That's the real risk."
YOU ASKED. WE ANSWERED
Q: What are the arguments for and against opening the economy?
A: As countries and states try to balance saving lives with saving livelihoods, experts say some arguments for reopening the economy now are short-sighted or flawed. One of the primary schools of thought — keep the elderly at home, while young or healthy people go back to work — is considered to be too risky. Another popular theory is "herd immunity" — when 70% to 80% of the population becomes immune because they've been infected — but experts say that letting the virus run rampant is a "dangerous calculation" that risks overwhelming hospitals. Take a closer look at the debate.
Send your questions here. Are you a health care worker fighting Covid-19? Message us on WhatsApp about the challenges you're facing: +1 347-322-0415.
WHAT'S IMPORTANT TODAY
Americans are saving like it's the 1980s
Americans are slashing their spending, hoarding cash and shrinking their credit card debt as they fear their jobs could disappear during the pandemic. Although caution is a logical response to the current uncertainty, hunkering down also poses a risk to the recovery of an economy that depends on consumer spending.
While people close their wallets, consumer prices are tumbling at an alarming rate — recently hitting their lowest levels since the 2008 financial crisis. Falling prices might sound like a good thing, but economists agree that deflation would be very bad news.
Latin America overwhelmed by pandemic
Brazil and Mexico have seen their deadliest days yet as the pandemic looks set to overwhelm some parts of Latin America.
Another 881 fatalities were reported yesterday in Brazil, which now has the sixth-most confirmed coronavirus-related deaths in the world. President Jair Bolsonaro has repeatedly dismissed Covid-19 as a "little flu," even as some governors scramble to implement social isolation measures and slow the spread.
In Mexico, authorities announced 353 additional deaths — the highest since the outbreak began. Nearly 4,000 fatalities have been recorded so far in the country, but the true death toll is believed to be much higher due to the limited amount of testing being carried out.
Europe talks 'travel bubbles' as tourism crisis grows
With nearly all travel halted across the 27-country bloc, the coronavirus pandemic has thrown Europe's tourism industry into chaos. Today, the European Commission will recommend travel between countries with similar coronavirus risk profiles, in an attempt to revive the sector — which normally accounts for 10% of the EU's economic output.
More than 100 million travel-related jobs, and some $2.7 trillion in GDP could be at risk as a result of the current crisis, the World Travel and Tourism Council, an industry group, said last month. Destinations like Malta and Croatia — which rely most heavily on tourist dollars — will be hardest hit, Hanna Ziady writes.
Meanwhile in England, it's the first day of (relative) freedom. People are now allowed to drive to "beauty spots" or meet a friend — but only one friend — in the park, as lockdown restrictions begin to ease.
Why Gen Z will be worst off
Will Murrell had hoped to pass his further education exams this summer, at a college in London. He was hunting for a job to earn some extra money alongside his studies. Then Covid-19 struck.
Now the 17-year-old is stuck at home with his parents. His exams have been canceled and all his plans are on hold. "I've been looking for jobs and now we're in lockdown, so I can't," Murrell told CNN. "It seems like an unnecessary risk."
Murrell is part of Generation Z, those born after 1997. As a disease, coronavirus disproportionately preys on the elderly. But Gen Z, at least in the short term, is set to bear the brunt of the ensuing financial chaos. Zamira Rahim explains why.
Covid-19 hits the whole body
The patient had been relatively fine for the first 10 days — he had mild pulmonary symptoms and a little cough, but was resting at home. At 38, he didn't fit the description of people at high risk of complications, until one of Covid-19's surprising effects kicked in: a massive blood clot. "He just woke up with both his legs numb and cold and so weak he couldn't walk," said a doctor who treated him.
As Maggie Fox writes, we're beginning to discover other bizarre and worrying effects of the virus: swelling of the toes, organ failure and a rare inflammatory syndrome.
ON OUR RADAR
Twitter will let some of its employees work from home "forever" if they choose, reflecting how the pandemic could lead to a new normal for corporate America.
Secretary of State Mike Pompeo has arrived in Israel wearing a star-spangled red, white and blue mask, as Prime Minister Benjamin Netanyahu eyes annexation of parts of the West Bank.
The UK economy is seeing a historic drop — shrinking by a record 5.8% in March. Much more pain is to come.
A cluster of cases connected to clubs frequented by South Korea's gay community has sparked an outpouring of hate speech towards an already-embattled LGBTQ population.
The way these Indian states handled the outbreak shows how much a person's chances of survival depend on where in the country they live.
A deadly ventilator fire in a Russian hospital was the latest test for President Vladimir Putin, as the coronavirus crisis reaches the Kremlin's inner circle.
Smokers and former smokers, including e-cigarette users, are at nearly double the risk of developing severe cases of Covid-19, study finds.
Germany's nightlife, known for its legendary club scene, is changing. Partygoers are trading packed warehouses for drive-in discos, honking to the beat.
American artist Spencer Tunick is best known for bringing hundreds — and sometimes thousands — of participants together to pose for striking mass nude photographs. Now he's staging the shoots online.
TOP TIPS
We spend most of our lives searching for "security": a happy relationship, a house, children, a good job, respect and money. The pandemic has thrown much of that into doubt. But the reality is that even before the current crisis, achieving some version of "happily ever after" wouldn't wipe away all our fears. The School of Life, a global organization helping people lead more fulfilled lives, suggests forgetting the search for happiness, and instead finding peace with anxiety. Try to give the journey more attention: look out of the window and appreciate the view. And pride yourself on having at least a slight oversight of your madness.
TODAY'S PODCAST
"You would perhaps walk into a check-in counter that has facial recognition facilitated and through that way you would obtain a bag tag. And there might also be a feature to avoid queuing at the gate." — Andrea Serra, World Economic Forum
Our experience in airports and airplanes changed dramatically after 9/11. Experts now expect a similar transformation as a result of the pandemic. CNN Chief Medical Correspondent Dr. Sanjay Gupta talks to travel experts about what to expect the next time you get on a plane. Listen Now