One in 400 people in England has coronavirus, tests suggest
|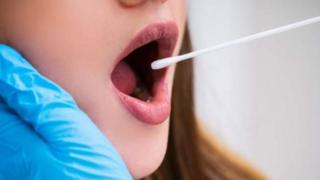 One in 400 people in England is infected with coronavirus, a survey of 11,000 people in households suggests.
They were asked to carry out swab tests over the two weeks up to 10 May.
This indicates about 148,000 people in England could be currently infected – 0.27% of the population.
The figures could help ministers estimate the transmission rate of the virus, or R number, and whether tracking contacts of infected people is feasible or not.
The pilot study of 5,000 households gives a snapshot estimate of how many people could be infected with the virus at a given point in time, with or without symptoms.
It is set to expand over time to test 25,000 people for the virus in private households across all four UK nations.
The households tested in this survey did not include hospital patients or people living in care homes, where rates of Covid-19 are likely to be much higher, Office for National Statistics figures show.
Just 33 of the 11,000 people – in 30 households – tested positive in this snapshot survey.
Health or care workers in those households were several times more likely to be infected than workers in other sectors.
'Good news for me, but not enough to race out of lockdown'
Analysis – Robert Cuffe, head of stats
This figure suggests my personal chances of getting the virus are quite low at the moment.
It may not be surprising to the experts who have been modelling the data, but to those whose expectations have probably been set by the grim succession of headlines about record numbers of deaths and ever increasing numbers of infections, it might feel surprisingly small.
Remember, the best estimates are that millions have people have had the coronavirus. This study tells us about who has it right now – and so can pass it on.
This estimate of one in 400 people, outside of hospitals and care homes, means that I'm unlikely to meet someone with the virus on a bus, but a tube train probably has a few infected people if there's standing room only.
The figure also underlines the challenge for the government in trying to move out of lockdown.
Testing, contact tracing and isolation is currently our only tool other than social distancing to slow the spread of the virus.
But one in 400 people in a country the size of England translates to 150,000 people.
Imagine trying to trace the contacts of all the infected people in England. And of course, the survey estimates that there are 150,000 infected people out there – but it doesn't tell us who they are.