Coronavirus: RAF plane en route to Turkey amid row over NHS kit
|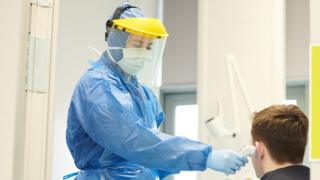 An RAF aircraft has departed the UK for Turkey to pick up a delayed delivery of protective kit amid a row over a shortage in the NHS.
The plane left at around 17:00 BST on Monday to collect 400,000 gowns.
Chancellor Rishi Sunak told the daily No 10 briefing the government was working "around the clock" to address the lack of protective gear.
It comes as another 449 coronavirus deaths were recorded in UK hospitals, taking the total number to 16,509.
But the number of new confirmed infections are "flattening out", the UK's deputy chief scientific adviser, Prof Dame Angela Maclean, told the briefing.
Meanwhile, more than 140,000 firms have applied for help to pay their wage bill through the government's job retention scheme, which went live on Monday morning.
The row over a shortage of personal protective equipment (PPE) for the NHS has intensified over the last few days.
Speaking in Downing Street, Mr Sunak said the issue was "uppermost" in people's minds and the government would "pursue every possible option" to secure more PPE.
He said ministers were trying to resolve problems around the consignment, expected to arrive from Turkey on Sunday, but hit by "unexpected" delays.
However, he said there were regular shipments expected from other sources, and cited a delivery of 140,000 gowns from Myanmar.
Mr Sunak said: "We're improving our sourcing internationally and domestically to make sure we can get the PPE we need in what is a very challenging international context.
"But people on the front line can rest assured that we're doing absolutely everything we can and straining everything we can to get the equipment they need."
The Ministry of Defence confirmed that the first of three expected RAF transport aircraft departed from Brize Norton for Turkey on Monday.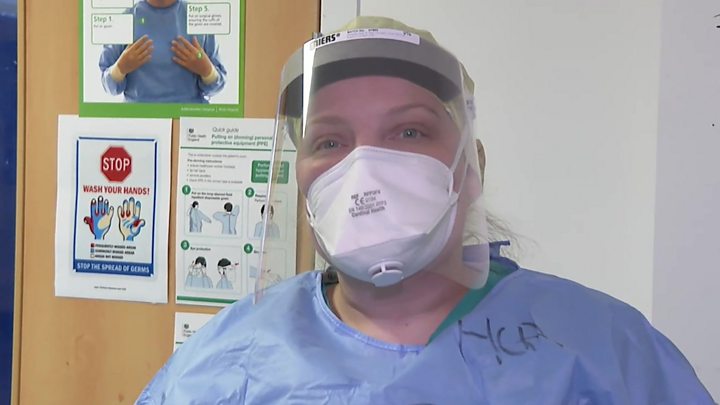 There was "no doubt" some hospital trusts were already experiencing shortages of the gowns, said Chris Hopson, chief executive of NHS Providers – which represents healthcare trusts across England.
He said that while the 400,000 gowns from Turkey would be welcome, NHS staff were getting through approximately 150,000 gowns a day.
Mr Hopson also said too much focus should not be placed on individual consignments.
He gave the example of an expected consignment of 200,000 gowns from China, which turned out to be 20,000 gowns when it arrived last week.
Downing Street said the government had now delivered a billion pieces of personal protective equipment (PPE) to frontline staff.
Speaking at the government briefing, Public Health England's medical director Prof Yvonne Doyle said a lack of PPE was "a concern".
However, she denied that PPE guidance had been downgraded based on availability of equipment rather than safety standards,
Public Health England changed its advice on Friday to allow the NHS to re-use gowns if stock was running low, saying "some compromise" was needed "in times of extreme shortages".
Prof Doyle said: "The guidance remains exactly the same. And that is a very precautionary set of advice – it's quite the opposite to putting people at risk because there aren't enough supplies.
"It's trying to ensure that people are well secured and safe when there may not be enough supplies, and it also stresses how important it is not to take risks."
Meanwhile, First Minister Nicola Sturgeon said Scotland currently had "adequate stocks" of all the main items of PPE but gowns were one of the items "under most pressure".
The owner of a healthcare service in Hampshire providing care to people in their own homes, said PPE is the "biggest challenge" her organisation faces.
Alice Ushumba said she was struggling to get hold of enough masks, and that some staff had resigned because they didn't feel safe with the protective equipment available.
"We're going into people's houses who might have Covid but we don't have anything to protect ourselves except perhaps a little plastic apron and gloves," she told BBC Radio 4's World at One.
The latest UK death total of 449 was the lowest daily figure announced since 6 April. The new figures also showed that the number of new infections – 4,676, was the lowest for four days.
Prof Maclean told the daily briefing that infections in the UK were "flattening out", and that the number of patients in hospitals in London had fallen for seven consecutive days. She added she hoped the fall would be "replicated" across the UK.
The number of new deaths announced – 449 – is the lowest for two weeks.
Last week the figures were hovering between 700 and 900, before dropping below 600 on Sunday.
That is, of course, good news. Although the figures for the past two days should be treated with caution.
They cover the weekend and we know reporting and recording delays can mean figures drop before rising again.
But the falls are big enough to suggest we may soon start seeing the number of new deaths coming down.
The numbers in hospital with coronavirus have already started dropping gradually so the signs are there that we are beginning to turn the corner.
Mr Sunak said there were "encouraging signs we are making progress" in tackling the virus but added that the lockdown restrictions needed to remain in place.
He reiterated the government's message that the UK needed to meet five tests set down last week before exiting the lockdown – which include increasing testing in the community.
"We are not there yet and it is very clear that, for now, what we should focus on is following the guidance, staying home to protect the NHS," he added.
Prime Minister Boris Johnson told colleagues his concerns that relaxing lockdown measures too soon could lead to a second outbreak of coronavirus.
He is understood to have had a video call with his deputy, Dominic Raab, on Friday to discuss the crisis.
In other developments:
The BBC has identified 70 healthcare workers who have died with coronavirus since the start of the outbreak
Prince Charles opened a 2,000-bed field hospital at Cardiff's Principality Stadium. The site – called Dragon's Heart Hospital – becomes Wales' biggest hospital
Charles' father, the Duke of Edinburgh, has made a rare public statement, praising those helping to tackle the pandemic and keeping essential services running
The UK is gearing up to use the blood of coronavirus survivors to treat hospital patients who have the disease
Prime Minister Boris Johnson has told colleagues his concerns that relaxing lockdown measures too soon could lead to a second outbreak
The government is considering having a one-minute silence for NHS workers who have died with the virus