Coronavirus: Personal protective equipment delivery to UK from Turkey delayed
|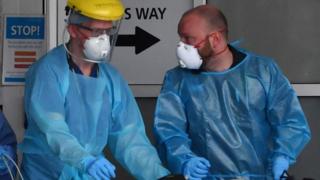 A protective personal equipment (PPE) delivery from Turkey to the UK has been delayed, the government has said.
Cabinet minister Robert Jenrick said on Saturday that 84 tonnes of PPE would arrive on Sunday, after accepting it was in "short supply" in some areas.
A government spokesman confirmed the delay on Sunday, saying they were working "to ensure the shipment is delivered as soon as possible".
A source told the BBC they hoped it would arrive in the coming days.
The pledge to take delivery of more PPE came after warnings that some hospitals' intensive care units could run out of gowns over the weekend.
Niall Dickson, chief executive of the NHS Confederation, said the shipment contained only "a few days' supply" – and while it "may be enough to avert an absolute crisis over this weekend… it doesn't solve the longer term problem".