Coronavirus: Nearly 10,000 deaths in care homes
|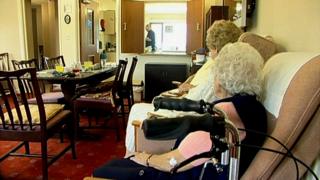 Nearly 10,000 people have died from coronavirus in care homes in England and Wales, figures suggest.
But for the second week running the Office for National Statistics review of death certificates showed the number of new deaths being seen has fallen.
In the week ending 8 May there were 1,666 deaths linked to coronavirus in care homes – down from just over 2,400 the week before.
Meanwhile, the overall number of deaths across society has fallen too.
There were 12,600 deaths during the week – nearly a third of which were linked to coronavirus.
This is down from a weekly peak of 22,000 at the height of the pandemic – although it is still above what would be expected at this time of the year.
Total deaths is seen as the best measure of the impact of the lockdown as it takes into account both deaths linked to coronavirus and other deaths that could be a result of the lockdown.
The daily figures released by the government just looks at deaths among people with a confirmed diagnosis of coronavirus.
It means the total number of deaths seen this year is nearly 260,000 – 44,700 above what would be expected.
Could the true toll in care home be even higher?
The government has been receiving heavy criticism for the impact of coronavirus in care homes.
Alongside the coronavirus deaths, there are significant numbers of unexplained fatalities.
Once you factor in Scotland, you would normally expect to see around 2,800 deaths a week.
But at the peak of the pandemic in care homes in the second half of April there were around three times as many deaths.
Only around half the increase was attributed to coronavirus.
The other deaths could be related to the indirect costs of the pandemic, such as not getting care for other conditions like heart disease and strokes.
Another factor could be that the true number of coronavirus deaths have been under-reported as the lack of testing available to care homes may have meant doctors were not able to identify the presence of the virus.