Coronavirus: How close is the UK to 100,000 tests a day?
|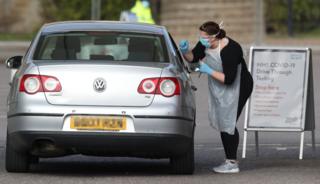 The UK government wants to do 100,000 coronavirus tests a day by the end of April. With a week to go it's managing around 20,000, but says it has the capacity to do just over 50,000 tests.
So what are the tests and how is the government going to reach its target?
What coronavirus tests are there?
The tests currently being used in UK hospitals and at about 30 drive-through testing centres are to see if somebody has Covid-19.
These are done by taking a swab of the nose or throat, which is sent off to a lab to look for signs of the virus's genetic material.
Can I get tested?
Testing is not yet available for the general public.
Hospital patients, NHS and care staff, emergency services, care home residents and now all essential workers and their families should be able to get tested.
But testing for the wider public will be essential when the lockdown restrictions are relaxed to help contain the outbreak.
That relies on quick testing for people with symptoms – and then rapid tracing and testing of people they have had close contact with.
How quickly could testing expand?
Health Secretary Matt Hancock has said that there is currently extra "capacity" in the system, particularly at the drive-through testing centres, because there hasn't been "enough demand".
But this has been challenged by some of the bodies representing key workers. A number of organisations, including the British Medical Association, have said that a major issue is the accessibility of those centres.
A residential care home operator in Dorset said its staff faced a 240-mile round trip to Gatwick to be tested for coronavirus.
Has the UK been too slow in testing for coronavirus?
There have been suggestions the UK government did not act quickly enough.
Countries like Germany and South Korea – which have tested far more widely than the UK – rapidly stockpiled kits and made the test available to a larger number of labs.
At first, Public Health England was only using its own eight laboratories, later expanding to a further 40 NHS labs. At the end of March, the government said it would work to involve more laboratories from universities, research institutes and private companies.
UK testing efforts have been held back by challenges in getting hold of swabs, testing kits and reagents (a vital chemical).
The government has been trying to ease the reagents shortage by getting pharmaceutical companies GlaxoSmithKline and AstraZeneca to make them in the UK.
The UK did not start with the resources to do mass testing, unlike some other countries.
Health Secretary Matt Hancock said: "We have the best scientific labs in the world but we did not have the scale. My German counterpart, for instance, could call upon 100 testing labs ready and waiting when the crisis struck."
But the government also took a different approach to others at the beginning of the crisis, using a smaller number of labs and keeping more control centrally.
Why is testing important?
There are two main reasons for testing people – to diagnose them individually, and to work out how far the virus has spread.
The second piece of information could help the health service plan for extra demand, including in intensive care units.
Testing could also inform decisions around social distancing measures. For example, if large numbers of people have already been infected, a lockdown might become less necessary.
And not testing more widely means many people might be self-isolating for no reason, including NHS workers.
What about antibody tests?
An antibody test shows whether someone has already had the virus.
They work by looking for signs of immunity, by using a drop of blood on a device that works a bit like a pregnancy test.
Mr Hancock has said that 15 of the most promising antibody tests had been tested, but none was good enough.
Tests bought from China had been able to identify antibodies in patients who had been seriously ill with coronavirus.
However, they didn't pick up the milder cases, according to Prof John Newton, who is overseeing the UK's testing regime. And it's not even clear at the moment whether antibodies guarantee immunity.
The World Health Organization's head of emerging diseases, Dr Maria Van Kerkhove, said the tests measure the level of antibodies in the blood. But there is no evidence they can show "that an individual is immune or is protected against reinfection".
What else is being done?
A total of 20,000 households in England will take part in a study to track coronavirus in the general population.
The study will help the government to identify how much the virus is circulating in the community and whether the rate of infection is increasing.
Volunteers will provide nose and throat swabs on a regular basis to see whether they have the virus.
The findings will help to inform the government's strategy for easing the lockdown.
By detecting the virus earlier, the study will enable officials to judge whether the virus is spreading, before hospitals become overwhelmed.
Follow Rachel on Twitter
What do I need to know about the coronavirus?